Imagination - Renovation - Relaxation
In addition to structural leaks, skimmers, main drains, and return lines are top culprits of swimming pool and spa leaks. We not only find those leaks, but we can also repair them, many times without draining the pool or spa. Once the source of the leak is found, we provide an estimate to repair the leak, and, many times, can make the repair during our initial visit. However, there are times when larger repairs can take up to a day or more to complete. We take our repair services seriously, and make every effort to ensure you are satisfied with the workmanship of the repair.
Pools and tanks incorporate numerous penetrations for the necessary inlets and outlets such as pipes, drainage systems and lights. These penetrations are all sites that are highly susceptible to leakage. Another major cause of coating failures in inground pools, such as chlorinated rubbers and epoxies, lies in the negative side hydrostatic pressure building up from ground or rain water. Our Waterproofing System is specifically designed with these challenges in mind, along with a multitude of other benefits, making it the perfect solution for waterproofing new and existing swimming pools and fountains.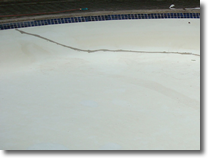 Over time, many pools will suffer a crack or some structural issue. Waterlogic is the solution to this problem. Our staff has the experience and technology to locate and repair any cracks that your pool may have. Once the crack is located our technicians clean the crack, set injection ports on the crack, pump high strength epoxies under pressure through the ports to penetrate the entire crack and structurally bond the shell of the pool back together.
If the leak in your pool or concrete shifting or settling has caused damage to your deck, we find the leak first, and then provide an estimate on the repairs for the leak and the deck. The deck can shift and crack if the ground below has been washed away by a persistent leak. The best solution in this circumstance is to evaluate the situation after the leak has been isolated and repaired. There are times the deck needs to be cut to make repairs on the pool's plumbing, skimmer, or autofill. We will repair the deck, and we always clean up after the work has been performed.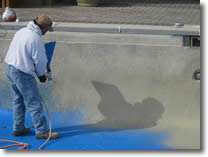 Water Logic offers a complete system to protect, enhance, and beautify your pool deck, walkway, or patio.
Any pool. Any size. Any style. Only LOOP-LOC offers you a safety cover designed to provide the ultimate in protection that works for your lifestyle… and your sense of style. See just how beautiful a safer backyard can be.
For more detail about our renovation and repair services, please visit the main services page of our website.